NovuMind wins US-China Cross Border Innovation Award from SVIEF
LAS VEGAS, Jan. 12, 2018 /PRNewswire/ — During the world's largest annual consumer technology show CES 2018, Silicon Valley Technology Innovation and Entrepreneurship Forum (SVIEF) announced the innovation award on Jan 9th night in Las Vegas. AI chip start-up NovuMind wins US-China Cross Border Innovation Award at the Silicon Valley featured Oscar Awards Gala — leaving a flashbulb memory for audiences, investors and tech experts.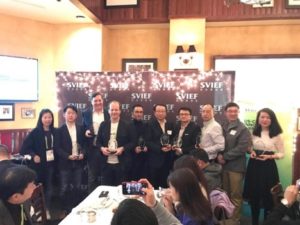 The CES 2018 US-China Cross-Border Innovation Award Night is organized by SVIEF. Since 2011, SVIEF has been the largest conference that fosters innovation and business partnership between China and the U.S. in Silicon Valley. This year, Silicon Valley AI chip start-up NovuMind brings its first ASIC product NovuTensor to CES 2018. The new chip is designed for artificial neural networks, by using very small (3×3) convolution filters.
"Our first AI chip, NovuTensor is published for the first time in Las Vegas at CES 2018. It is the most power- efficient AI chip in the world. With the full stack service, NovuMind can help traditional enterprises have the most powerful AI ability just in two steps — Train once, and then deploy AI to everywhere." said Dr. Bin Zhou, President of NovuMind China.
As an AI chip startup company, NovuMind is dedicated to improving your life through AI by making things think. Through cutting edge, in-house-developed AI technology, NovuMind combines big data, high-performance, and heterogeneous computing to change the Internet of Things (IoT) into the Intelligent Internet of Things (I2oT).
Dr. Ren Wu, founder and CEO of NovuMind, formerly a distinguished scientist at Baidu, started NovuMind in August 2016. Now, there are 40 people in NovuMind's team, including 25 engineers in the U.S. and 15 in Beijing. The company's first AI chip "NovuTenosr" — designed for prototyping —  is displayed on CES 2018 for the first time, which is running on a 15 teraflops of performance (ToP) chip under 5 watts.
About NovuMind
NovuMind helps companies put the power of AI into their products. The NovuTensor chip, along with a full stack of AI solutions support, enables OEMs to embed deep learning inference capability, even in applications where power or network access are limited. Led by AI industry pioneer Ren Wu, the NovuMind team has expertise in machine learning, chip design, and high-performance computing. The company's headquarters and R&D are located in Santa Clara CA, with additional offices in Beijing and Guangzhou, China. For more information, please visit us at: www.novumind.com