NovuMind Showcases the Most Power-Efficient AI Chip at CES 2018
LAS VEGAS, Jan. 9, 2018 / — Artificial intelligence is a major theme at the International Consumer Electronics Show (CES) from Jan. 9 through 12, 2018, in Las Vegas. People from the whole world want to see how artificial intelligence is changing our life at one of the world's largest technology shows.
Silicon Valley AI chip start-up NovuMind brings its first ASIC product NovuTensor to CES 2018. The new chip is designed for artificial neural networks, by using only very small (3×3) convolution filters.
NovuMind founder and CEO Dr. Ren Wu and IC engineering VP of NovuMind Mike Li are introducing NovuTensor at CES
With the mission of embedding power-efficient AI everywhere, the founder and CEO of NovuMind Ren Wu and his team have been developing the chip for more than two years. Now, the latest AI chip with an absolute advantage over its competitors in the industry, designed by NovuMind, is being showcased for the first time at CES.
NovuTensor runs on a 15 teraflops of performance (ToP) chip under 5 watts. Mike Li, IC engineering VP of NovuMind said, "With such performance and power efficiency, NovuTensor can offer the best hardware accelerators for AI applications."
In the past two years, with 50 top AI engineers, including 35 in the U.S. and 15 in Beijing, NovuMind has been seeking for what Wu describes as the best approach to deep learning.
The market of deep-learning accelerators for edge devices is highly competitive. All the players are facing fierce challenges, "but we have the confidence to deliver the best products to the industry," said Bin Zhou, President of NovuMind China.
To enable embedded AI, NovuMind provides not only NovuTensor with high performance and low power, which is vital for AI inference but also NovuStar, a supercomputer specially designed for AI which provides industry-leading performance for AI training. "We are a full stack AI technology company. NovuTensor and NovuStar are like little brains that sense, process, react and adapt to the environment and interact with rest of the world – intelligently," Bin said.
One of NovuMind's showcase is the AI endoscope diagnosis, which is known as the first global artificial intelligence digestive endoscope by Chinese media. As the tech support team, NovuMind provides full stack AI technology to West China Hospital of Sichuan University, including ASIC chips NovuTensor and AI training platform NovuForce. According to the data published by West China Hospital, the accuracy rate of detection reached a high level of 92% – 96%, which is even better than a human doctor.
Powered by NovuTensor, AI technology can help traditional TV improve the image rate of display. NovuMind super-resolution uses deep neural networks to intelligently creat details, restore edges, and reduce the noise of imagines, helping traditional display achieve high-quality visual effects, not only more effective but also in a real time. Up to now there are international well-known manufacturers already reach cooperation with NovuMind.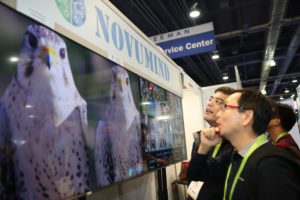 NovuMind super-resolution achieves ultra-high definition display with AI technology.
CES is the world's gathering place for all those who thrive on the business of consumer technologies. It has served as the proving ground for innovators and breakthrough technologies for 50 years. As an enterprise that has caught the attention of the industry, NovuMind showcased its new chip at the CES for the first time, which was praised by many media as the next-generation innovation in AI chips market.